The Consumer Goods Forum launches the Consumer Trust language with the Transparency Open API at the Cape Town Summit.
---
One year ago, at the Consumer Goods Forum in New York, delegates explored the key theme "Trust as a Foundation for Growth" through a rich program of keynotes, fireside discussions and panel discussions.
However, although delegates agreed that consumer trust was mainly driven by supply chain transparency, there was still a missing piece to make it happen: a common language to be used by all supply chain stakeholders.
Following the New York Summit, the Consumer Goods Forum launched a special task force, the "Technology Advisory Council" with 7 key service providers including Transparency-One, to define an open API, as a foundation for the Consumer Trust language. This API was shown and validated on a strawberry yogurt supply chain., with the support of the CGF Business Task Force, including retailers and manufacturers.
The new Consumer Trust language consists of :
– A vocabulary, based on GS1 standards that are already used all over the world,
– A simple grammar that enables to ask very easily questions related to compliance, certificates, product origin, raw materials, etc.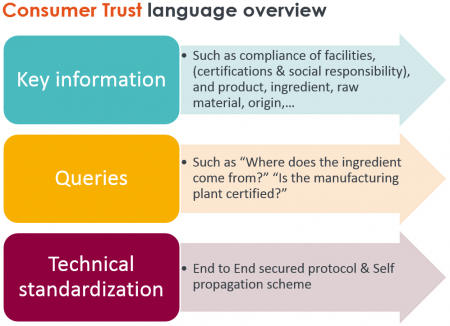 This work was presented to the CGF Board and in the plenary session by Peter Freedman, during the Cape Town Summit (June 15-17, 2016). All along the Summit, the leading CEO showed in their presentations, the importance of transparency as a key pillar in their strategy.
Enjoy the video of the Transparency Open API principles done by the CGF.
Watch Video
Let's now speak the Consumer Trust language and start a Transparency program!