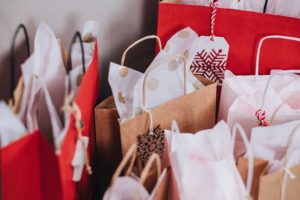 The holiday season is upon us. For many, this means a time of giving gifts, hosting dinners and, of course, shopping. Although we may stop by a single shop or store to make our purchases, the goods we buy for the holidays (and in general) are often made from materials sourced from all over the world, with supply chains that span the entire globe. 
Businesses have a responsibility to ensure their goods are produced responsibly and sustainably, especially given the size of modern supply chains and the volume of holiday shopping. As consumers, we can do our part to create a more transparent world by supporting the businesses who choose to take steps to improve their supply chains.  
When shopping, it is worth taking the time to do a quick search on your favorite brands and retailers to see what they are doing to ensure sustainable, ethical supply chains. This can be done for a variety of holiday-related goods, from the foods we buy to cook special meals to the gifts we buy for our loved ones. 
Food & beverage

. 

Transparency is in high demand 

for

 the food industry

,

 

and businesses are responding. 

Major food 

&

 beverage companies such as 

Danone

, 

Nestlé

, 

and 

Mars

 have all set ambitious sustainability and social responsibility goals

 ranging from sustainable sourcing to reduced emissions

. 

Many

 

brands

 

often publish

 

detailed 

sustainability or CSR reports 

on their websites 

that showcas

ing their efforts to 

increase transparency

 in their supply chains. 

This information

 can be a valuable resource in determining what food and beverage products you 

choose to buy this holiday season. 

I

n addition, a

lcohol

ic beverage

 companies 

such as 

Diageo

, 

AB 

Inbev

, 

Molson Coors

,

 and

 

Pernod Ricard

 

have

 all

 

set 

long-term 

commitments

 

to increase the transparency and sustainability of their supply

 chains

. 

Alcoholic beverages may not immediately come to mind w

hen we think 

of 

transparency, but 

as with 

food, 

these are 

made up of ingredients and can be held to the same standards for transparency

.

 

 
Fashion

. 

More and more

 fashion

 businesses are 

taking steps to produce goods more ethically by reducing 

their 

environmental impact

, ensuring fair labor practices, 

and s

ourcing more sustainable materials

. 

As with food, i

nformation on specific initiatives can be easily found on many fashion brands' and retailers' websites.

 In addition, 

the non-profit 

Fashion Revolution produces an annual 

"

Fashion Transparency Index

,

" 

which ranks

 200 of the biggest global fashion and apparel brands and retailers according to how much information they disclose about their suppliers, supply chain policies and practices, and social and environmental impact

.

 

Sustainable

 fashion is becoming more widespread—taking the time to 

do a bit more detailed research can help you 

determine which brands are taking concrete action, and which are simply greenwashing.

 

 
Jewelry and electronics. 

Jewelry and electronics are popular holiday gifts

, 

but unfortunately they are 

often made with

 the

 

conflict minerals

 tantalum, tin, tungsten, and gold.

 

Today, eliminating conflict minerals 

altogether

 is a challenging task—but the

re are a few ways to a

ssess whether a jewelry or electronics company is addressing 

the issue:

 
Check on their website if

 they have complied with 

Section

 1502 of the 

Dodd-Frank Act, which asks companies to voluntarily disclose conflict minerals in their supply chains.

 

Check if they are 

a member 

of 

the 

Responsible Minerals Initiative

 

(RMI

). The RMI "

provide

s

 companies with tools and resources to make sourcing decisions that improve regulatory compliance and support responsible sourcing of minerals from conflict-affected and high-risk areas.

"

 

Review the 

Enough Project's 2017 conflict minerals ranking report

, which 

examines and ranks

 the top 20 companies in 

the consumer electronics

 and jewelry

 industries. 

 
The holidays are a busy time of year, but it is becoming easier to discover what brands and retailers are doing to ensure better supply chains. By investing a bit of time, consumers can support these businesses and help pave the way towards a more ethical and sustainable future.