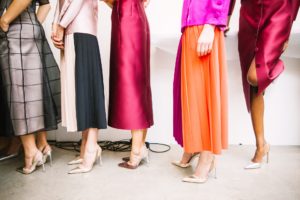 Earlier this year, Fashion Revolution released the 2018 edition of its Fashion Transparency Index. This annual report ranks 150 of the biggest global fashion and apparel brands according to how much they disclose about their social environmental policies, practices, and impact.
Companies are scored across five criteria:
Policy and commitment: How much brands disclose about their policies and commitments on social and environmental issues.
Governance: How much is disclosed regarding who on the team is responsible for addressing issues and how suppliers are incentivized to improve performance.
Traceability: Whether companies are publishing supplier list, and if so, in how much detail.
Know, show and fix: How much brands disclose about their supplier assessment and remediation processes, and the results.
Spotlight issues: How much information brands publish about their efforts to address specific issues such as gender equality, textile recycling, etc.
These scores are then averaged for each company to provide a final score. Today we take a look at some of the top performers for a more detailed look at how they have embraced corporate social responsibility.
Adidas
Adidas ranked highest on the transparency index with a score of 58 out of 100 (in a tie with its subsidiary Reebok). Adidas has a long history with corporate social responsibility, having published its first annual sustainability report in 2001. Since then, Adidas has continued to push its sustainability boundaries, publishing its first Global Factory List in 2007. In 2015, Adidas partnered with Parley for the Oceans to develop an Innovative Footwear made entirely from ocean plastic.
Adidas has also taken steps to ensure fair treatment of workers. In 2011, Adidas performed a self-assessment of 25 of its suppliers in 8 countries to address the issue of fair wages. The following year they launched their "SMS for Workers" project in Indonesia to facilitate communication between factory workers and management.
Today, the company has set a number of different targets to be achieved by 2020,  including:
Reducing water consumption by 50% at their apparel material supplier facilities
20% waste reduction at their strategic suppliers
Empowering supply chain workers through expanded grievance systems and skill training programs
Adidas' consistency in addressing corporate social responsibility issues over the past decade make it a worthy inclusion on the Fashion Transparency Index.
Marks & Spencer
In 2007 Marks & Spencer launched Plan A, a 5-year sustainability program to address social, and ethical issues for clothing, food, and home items. Plan A was updated in 2010 and again in 2014. In 2016 the retailer published a map of its clothing and food supply chains, with over 1,200 suppliers in over 50 countries. Today the company is in the midst of a new version of Plan A for 2025.
The latest iteration of Plan A emphasizes not just taking action towards achieving these goals, but taking swift action. As part of the plan's many objectives, Marks & Spencer aims to source its 50 key materials (which comprise 80% of its volume) sustainably by 2025. The company also aims to build on its partnership with Oxfam by "taking a lead on tackling issues such as in-work poverty and the living wage, modern day slavery and social inclusion."
H&M
Swedish brand H&M has taken a very proactive approach toward sustainability. On its dedicated sustainability website, H&M boasts a 100-page sustainability report, a supplier map, a detailed modern slavery statement, a Q&A with the group's head of sustainability, and more. Among its many CSR goals, H&M aims to:
Remediate 100% of the issues defined by the Bangladesh Accord
Source 100% of cotton from sustainable resources by 2020 (only 22% in 2014)
Use 100% recycled or other sustainably-sourced materials in all commercial goods
In 2018, H&M launched its seventh Conscious Collection, a range of clothing made with "sustainable methods and materials." Last year the company also launched a new brand, Arket, which is "all about well-made, sustainable design, while providing customers with transparency of the origin of its products."
H&M has clearly leveraged its position as a top global fashion brand to help push the industry toward more ethical and sustainable production.
Major brands have a big role to play in creating a more sustainable and ethical planet. Thanks to their global supply chains, they can affect change on a large scale. The Fashion Transparency Index recognizes the efforts that many of today's top brands are making to improve apparel supply chains, while still acknowledging the fact that much more work needs to be done. A perfect score on the Fashion Transparency Index is 100; today, the highest score is 58. It is clear, then, that more can still be done to ensure fully transparent and ethical supply chains—but with dedication and effort, we can expect to see a score of 100 in the near future.