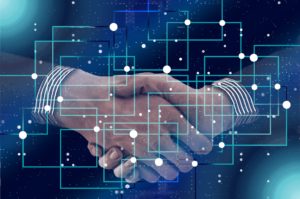 Everyone seems to be talking about blockchain. Recently, in between teenage "eye rolls," even my 13-year-old asked me about blockchain and what we are doing about it. Really?
Despite the teenage questioning, we had already been watching the blockchain trend closely. A couple of weeks ago, we launched a blockchain service option for our platform. We had two assumptions going into this project:
Blockchain is both a philosophy and technology. We wanted to understand both – but while the philosophical whiteboard was fun, we quickly focused on the practical. Which led to point #2.
We wanted to deliver capabilities in a month (we did). This helped avoid getting too philosophical about it. We kept it simple.
We worked with Microsoft Azure, who is our strategic cloud partner. They were great to work with – and a month later we had the option developed and deployed. Our platform already helped companies map their supply chains from source to store – and capture critical product safety, compliance and social responsibility data. Now, our customers have the option to "block" their information with Microsoft's service for an extra layer of security. So, what did we learn?
Know the problem you are trying to solve. Blockchain is still emerging as a technology – so there's a mix of buzz and evangelism right now. It can get easy to get lost. Really understanding what problem you are solving and what the challenges are is critical. While we think our platform is pretty cool and yes, blockchain adds additional value – these alone aren't going to solve the problem we set out to solve. You still need to get brands and suppliers to share information which – even with great technology – still requires many other elements for success (we think we have an approach to this, but that's for another blog). This thinking helped focus us on where blockchain can add value.
User Experience. You still need a user experience to build the data you want. At least for now, blockchain itself doesn't solve the issue of creating data for specific business problems – especially in our case, where we are tackling the consumer goods industry's big challenge of creating full supply chain transparency. We focused on the user first and outputs first, then how to deal with the data.
Don't overcomplicate it. We find that while companies are interested in blockchain, the focus of our discussions tend to shift to the core problem. The technology becomes secondary.
So, we've taken the first step. We believe we implemented blockchain in a simple, value-added way. We hope we've cut through the noise a bit and helped with a practical solution. Hopefully, we don't get too many "eye rolls" – but certainly this is a first step on our journey.