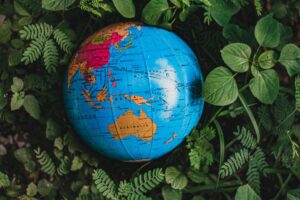 Today, the need for supply chain transparency to ensure safe, sustainable, and responsibly sourced products is a given across many industries. Consumers, governments, investors, and employees alike expect companies to prioritize sustainable practices to build a better future. Sustainability and responsible sourcing are key business drivers.
But this was not always the case. In the not too distant past, the case for transparent and sustainable supply chains was much less established. Consumer demand for responsibly sourced goods not as prevalent as it is today, and for most businesses, sustainability and responsible sourcing were not key business functions.
The expectations for best supply chain practices have greatly evolved in recent decades. How did we get here, and what is in store for supply chains of the future?
From supply chain transparency…
In previous decades, supply chain visibility beyond tier 1 or 2 suppliers was not the norm. The push for improved supply chain practices focused primarily on the need to increase supply chain transparency beyond direct suppliers.
Food safety was a key area of concern for consumers. Motivated by a new wave of health consciousness, many shoppers wanted more information about their food—where it was grown, how it was processed, and its journey to the store. In addition, news about sweatshops and poor working conditions in clothing factories led to a heightened sense of awareness among consumers of the supply chains behind their everyday products.
These concerns propelled organizations to begin prioritizing supply chain transparency and take steps to better understand who is involved in the productions of their goods, beyond the immediate tier.
…to responsible sourcing
In more recent years, the expectation for supply chain transparency has led to an increased demand for more traceable, sustainable, and ethical products. This demand exists not only among consumers, but also among governments, investors, and even employees, all of whom understand the importance of mitigating the environmental and social impact of global supply chains. It is not just about knowing who your tier 1 and 2 suppliers are; it is about understanding the end-to-end supply chain, capturing information on each partner's practices, and establishing and continually monitoring standards for responsible sourcing.
Today, responsible sourcing is no longer "nice to have" but a central tenet of how successful businesses do business. Sustainability commitments and progress reports can be found across industries and among hundreds of organizations, including giants such as Danone, P&G, Walmart, Primark, and many more. Sustainability and responsible sourcing are embedded in the business and drive key business decisions.
We have evolved from an era with limited supply chain transparency, to one that views transparency as a means for more ethical and sustainable sourcing. Business units across organizations—compliance, sustainability, procurement, marketing, and more—all stand to benefit from responsible sourcing and are working together to implement more sustainable practices.
Building a responsible sourcing network
As responsible sourcing becomes firmly grounded in the organizational mindset, the next stage is growing and scaling the supply chain network.
Successful organizations recognize that collaboration between partners throughout the end-to-end supply chain—and even between competitors—is necessary to facilitate efficient data exchange and make real progress towards more responsible supply chains. Significant progress has already been made: more businesses are establishing concrete sustainability commitments and gaining a better and deeper understanding of their supply chains. Now is time to scale.
To accelerate the movement towards responsible sourcing at global scale, a robust network is key. Transparency-One's responsible sourcing network connects global supply chain partners across multiple industries to help companies build more sustainable and ethical supply chains. The Transparency-One solution enables real-time collaboration so organizations can easily request and share information with their supply chain network, assess compliance with standards, and identify areas for improvement.
The business case for responsible sourcing is clear. As we head into the new year, it is time to build on the progress that has already been made to accelerate and scale. By facilitating connection, communication, and collaboration, the Transparency-One responsible sourcing network will help advance efforts for more transparent and sustainable supply chains.