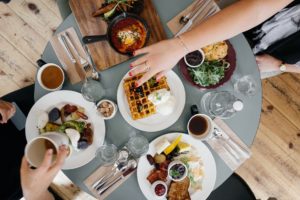 In 2019 and beyond, the food industry is sure to undergo a radical transformation. The theme of this year's GFSC—Emerging Challenges and the Future of Food Safety—alludes to just that.
To succeed in these changing times, food businesses must observe the market and evolve accordingly. New consumer segments are entering the market with different expectations. Grocery shelves are stocked with a greater variety of products than ever before. Corporate transparency is becoming the norm.
How do food businesses, both new and old, navigate these challenges? What changes should you expect, and how should you prepare to face these challenges both now and in the future?
Higher expectations for transparency
Consumers today are not only demanding more transparency from businesses; they are also setting higher expectations for how businesses should demonstrate it. Consumers are no longer satisfied with general statements asserting products are sustainably produced or responsibly made. Now, they want to see the real data backing it up. Where exactly do these products come from, and how exactly were they made?
With brands and retailers beginning to deliver on these expectations, the stage is being set for a new normal. Nestlé, Unilever, and Marks & Spencer have all published supplier lists in an effort to provide consumers with more data. Brands such as Mars Food are finding new ways to engage more deeply with shoppers, by providing detailed farm and sustainability information. As greater transparency becomes the norm, consumers of the future will expect businesses to gather and share more detailed product stories.
Businesses should start addressing this challenge now. Take steps to gain greater supply chain visibility, such as by identifying indirect suppliers or gathering modern slavery certifications from suppliers. Wherever you fall in the spectrum of transparency, now is the time to raise the bar. Set and meet higher standards so that when consumers inevitably expect more information, you will be ready to deliver.
No room for error
Last year saw numerous food safety incidents, such as fatalities from undeclared allergens and E. coli outbreaks in the United States. Thanks to modern technology, we can identify outbreaks more effectively and circulate news more quickly. However, this can also lead consumers to think that outbreaks are on the rise. Over time, consumers will likely become less accepting of food safety incidents and abandon a brand or retailer at the first sign of an incident. There is no room for error.
Immediate action is key. When a food safety incident occurs, businesses need to address the root issue quickly. Take steps now to discover who is involved in your supply chains—down to primary production—and arm yourself with the critical information you need to react immediately to a crisis. Instead of relying on others, take control of your supply chains and the situation at hand. With greater supply chain visibility comes greater control.
New technologies abound
A wealth of new technologies promises to transform the food industry through improved safety and greater supply chain transparency. Perhaps the most (in)famous example is blockchain, which aims to secure data, increase transparency, and encourage collaboration between supply chain partners. In addition, artificial intelligence solutions can now automate food safety tasks previously monitored by humans, with greater accuracy. Businesses can also digitize their supply chains to collect detailed product knowledge, identify risks, and manage compliance more effectively.
As these and other technologies continue to advance, food businesses face the challenge of determining what technology to implement to meet their objectives. The wrong solution—or the right solution deployed at the wrong time—can waste precious time and resources. Use ROI as a guiding light: do you have enough knowledge about my supply chain to effectively leverage blockchain? Will artificial intelligence truly help your business reach its goals? With more solutions sure to arise in the coming years, food businesses must ensure they fully understand their priorities to make the right decision.
New generation of consumers
From alternative proteins and oat milk to food subscriptions and direct-to-consumer sales, the modern food landscape provides consumers with more options than ever. What's more, millennials—the fastest-growing consumer segment—shop differently than previous generations: they want to know more about their purchases and are more likely to switch brands. Businesses will need to adapt their consumer engagement strategies to capture shopper attention in a crowded and evolving market.
By gaining more supply chain visibility, businesses can build a stronger connection with shoppers. Transparency empowers companies to answer the questions consumers are asking: Where did this product come from? How was it produced? Was it ethically sourced and sustainably manufactured? It also enables businesses to meet sustainability or social responsibility objectives that help their products stand out from the crowd. Capture the new generation of consumers through greater visibility.
Long-term success in the food industry means not just understanding emerging challenges but taking steps to address them. Investing in greater supply chain transparency to adapt to an evolving industry—although not always easy—sets up your business to thrive in the decades to come.
This post was originally published on GFSI as a guest blog.